William Still, Black Abolitionist
"There is a flow to history and culture. This flow is rooted and has its wellspring in the thoughts of people. People are unique in the inner life of the mind — what they are in their thought-world determines how they act. This is true of their value systems and it is true of their creativity. It is true of their corporate actions, such as political decisions, and it is true of their personal lives. The results of their thought-world flow through their fingers or from their tongues into the external world. This is true of Michelangelo's chisel, and it is true of a dictator's sword." (Francis A. Schaeffer, How Should We Then Live?)
William Still (1821-1902) has been called an "unsung hero" of the Black Abolitionist movement. And while I believe that not too many people have heard of him, his speeches, delivered during the late 1850s and early 1860s, are some of the most eloquent I've read.
William Still's work has been the subject of these blog postings before. He usually comes to mind during Black History month for me, and I thought it would be great to revisit his speech on Self-Improvement delivered in Philadelphia on March 2, 1860. Still wasn't the only abolitionist to emphasize self-improvement, but his words gained the attention of those who desperately sought a clear direction during a time when the future seemed quite unclear. The south was poised to succeed from the Union in April of 1860, and the Civil War would begin a little more than a year later.
Those who had struggled so long and so hard for freedom now faced a difficult choice as the potential realization of this dream seemed so near. Should they just stay out of the way, not cause trouble, and try not to be seen? Or should they now risk everything for what they believed was a right and just cause?
William Still was among those who addressed this choice with a public urging for "self-improvement" through education, a focus on religious standards, and a strong moral discipline. The ideas he expressed then hold value even today for all those who prize freedom and justice: an individual focus on self-improvement, the potential for fulfillment in life, and the opportunity to gain an important place among the ranks of those who can look with dignity and pride at how much they have to offer to the social world.
The Black Abolitionist Archive contains a wealth of history just waiting to be explored. Start here …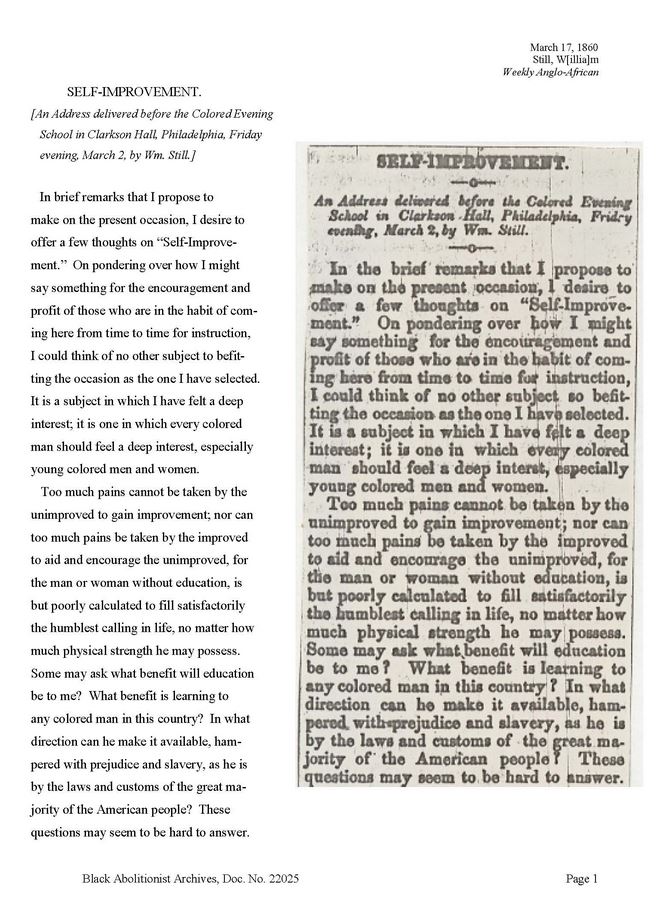 Contribution by digital technician, Linda Papa
Permalink
Last updated 02/05/2020 by P. Higo
What's related