Come fly the friendly skies of the University of Detroit Flying Club!
While the Archives floor is undergoing renovation, I am rerunning some past blog posts.
The University of Detroit Flying Club was first formed about 1921 and lasted off and on until about 1962. During that period the club won a number of air races including the 1925 Aero Digest Trophy at the International Air Races in New York, Dayton Daily News Trophy and the Scientific American Trophy, plus some $2,000 in cash prizes. In June 1931, the Flying Club announced that it had placed in order for a new training airplane. Up until then the only other college flying club that had owned and operated its own plane was Harvard's club.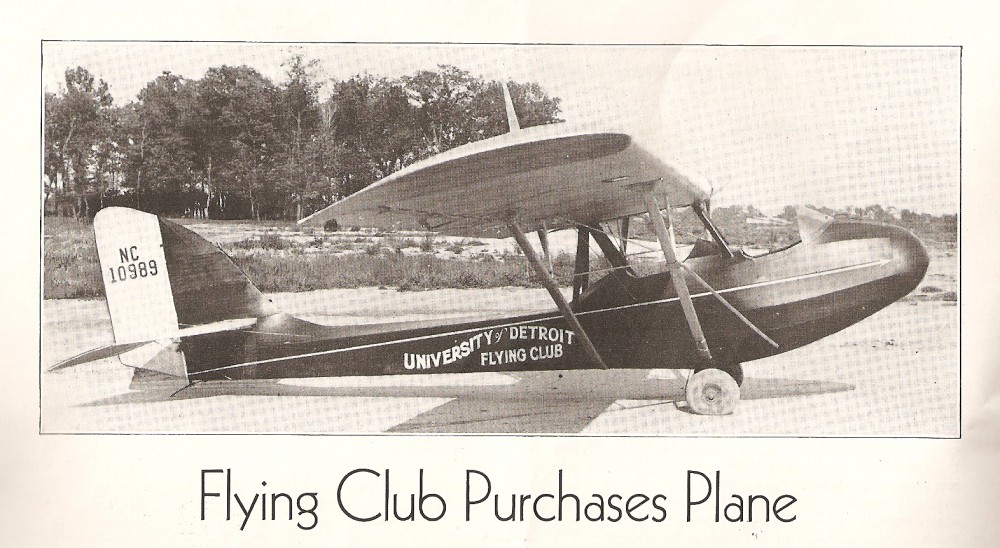 "The plane, a Curtiss-Wright Junior carrying the school's red and white Titan seal, is a two-seat dual control monoplane with the cockpits in a tandem arrangement….Specifications call for a wing span of 39 1/2 feet span, and a total wing area of 176 sq. ft. The overall length of the welded steel tube fuselage is 21 feet, 3 inches, and the height is 6 feet, 4 inches. The Junior takes off in a 200 feet run and climbs 600 feet a minute; top speed is 80 m.p.h. and landing speed is 30 m.p.h. the plane cruises at 70 m.p.h. on 2 3/4 gallons of gasoline per hour, which is equivalent to 25 mile per gallon." (The Co Ord, June 1931)
In 1949 membership in the Flying Chapter of the Flying Club was $25.00, $10.00 of which is given back when leaving. It cost $1.00 to join and 50 cent dues per month. As a way to increase attendance of members and to encourage prospective members, one free flying hour, valued at $3.25, was given to one of the members at each of the regular meetings held every other week.The club members were able to fly in the club's Cessna 120 plane.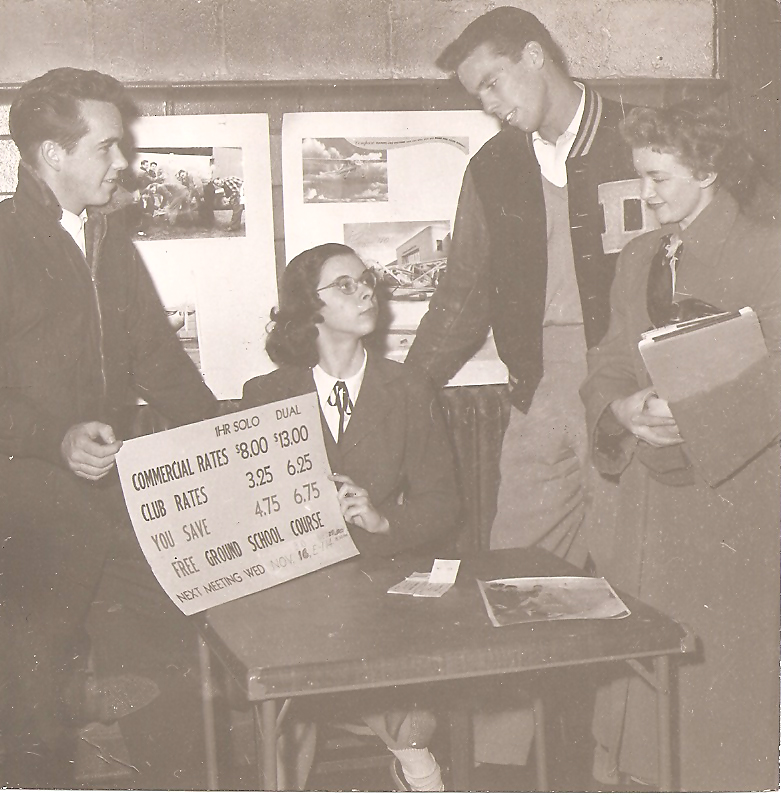 There are no documents describing the end of the Flying Club, but I would not be surprised if the cost owning and flying an airplane sponsored by the university would be a financial burden that could no longer be supported. The end of the Aeronautical Engineering degree at the University of Detroit in 1965 probably was a factor. That year, the Aeronautical program was merged into the Mechanical Engineering program.
Permalink
Last updated 10/23/2019 by P. Higo
What's related