Equitable Laws: The Greatest Good of the Greatest Number- Black Abolitionist,1863

In light of some current criticisms surrounding some apparent racist comments by Donald Trump, I thought I would find an item in the Black Abolitionist Archives that might give some people something to think about. This editorial was published in a Black Abolitionist paper "Pacific Appeal" on October 31, 1863. In it " The writer sees a more liberal government taking shape. He notes that all the fears associated with the emancipation of slaves have not been realized. He emphasizes that "freemen and freedmen" alike demonstrate loyalty and patriotism despite prejudicial treatment."
The most interesting part of the editorial from the current news perspective: "There are thousands of foreigners who look with amazement on the patriotic and loyal position of colored Americans, because they had been led to believe that they were, as a people, the worst of God's creation. During our country's trials, our record, as a people, thus far has refuted many slanders."
From a recent Trump twitter: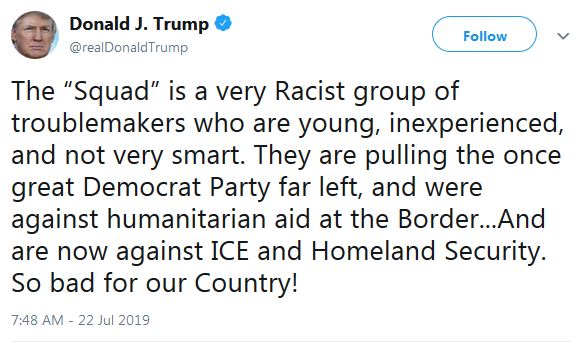 Just for a little background, the "Squad" members are Hispanic-American, African-American and Muslim-American. (On a personal note: accusing a group composed of minority members as "racist", doesn't make a lot of sense.)
Seems as if in today's society, stereotypes or prejudice toward minorities have not changed much in over 150 years!
Permalink
Last updated 07/24/2019 by P. Higo
What's related