Mercy College newspaper 1970
From October, 1941 through April 1989, Mercy College of Detroit offered its academic population news and information through the publication of a bi-weekly newspaper. Although the name of the newspaper changed a couple of times since it first began, the publication continued through the 1988-89 school year. Each issue has been preserved in our Mercy College Student Newspapers digital archive to offer readers an intimate view of student life at Mercy College.
Outer Echoes, the original newspaper title, became Dateline in January, 1970. In April of that year, the first page of Dateline (shown here) proudly announced that 200 students would graduate that year on Saturday, May 9, at St. Scholastica's Church across the street. It also offered something unexpected.
Included in this first page was a parable I've heard before in various tellings. This time the story was presented as a wise philosopher interacting with his students. The students were jealous of the philosopher's great wisdom and set out to make a fool of him. Regardless of the main characters, whether monks or priests or philosophers, the story goes like this:
The students approached an old philosopher and one of them said, "Old man, I have in my hand a bird. Tell me if it's dead or alive."
The student with the bird thought he knew how to outsmart the old philosopher. The bird the student held was still alive, but if the old man replied "alive," he would crush and kill the bird to prove him wrong. If the old man thought the bird was dead, the student would open his hand and let the bird fly away.
But the old man knew something that these students did not. The future is undetermined before it is chosen. The choice in that moment lay in the student's hands. Either choice would be proved right: end your future now, or release your limitations and fly free.
The old man replied, "As you wish, my son. As you wish."
Funny how these stories work. What was true for students then, is true now. Graduation opens the way to the future, but it's up to each student to decide the path.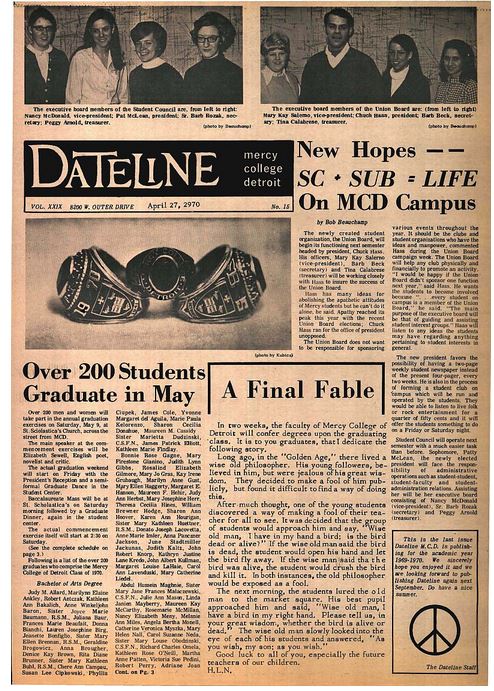 Contribution by Linda Papa, Digital Technician
Permalink
Last updated 08/04/2017 by R. Davidson
What's related