More things change, more they stay the same: 1946 vs 2017
As I was browsing through the 1946-1947 Varsity News for something to post on this blog, I came across a couple of items that are still very much at issue even today. Maybe the names and labels change, but the concept is still there. Sad to think that in another fifty years, these problems will still be around for people to talk about.
To keep things in perspective, in 1946 just after the end of World War II, relationship between United States and Russia, began what is commonly called, the "Cold War". The Truman Doctrine was announced in 1947 as a pledge to aid nations threatened by Soviet expansion.
The question of "Free Speech" is also taking a hit in the news today. There have been demonstrations across college campuses for allowing certain speakers to give a speech that have a controversial viewpoint. Back then and now, the term "freedom" seems to have lost some of its meaning-but then that is just my opinion.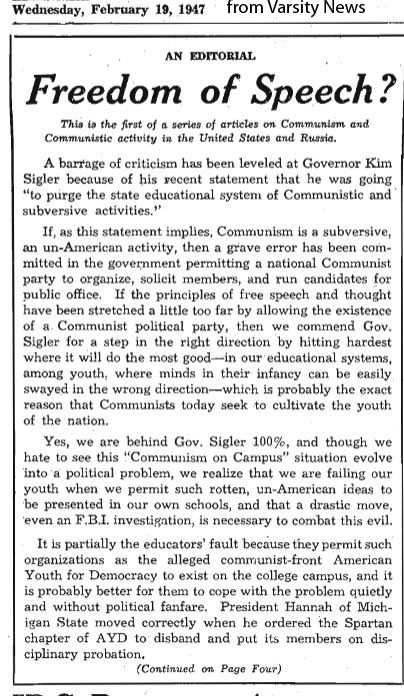 Permalink
Last updated 09/12/2017 by P. Higo
What's related