Watergate: The Presidential Scandal That Shook America With a New Afterword by Max Holland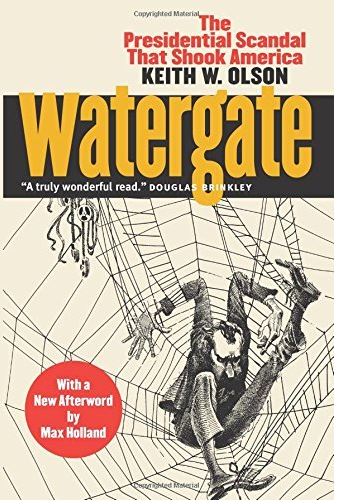 by Keith W. Olson
A new afterword by Max Holland details developments since the original 2003 publication, including the revelation of Mark Felt as the infamous "Deep Throat," the media's role in the scandal, both during and afterwards, including Bob Woodward's Second Man. Arguably the greatest political scandal of twentieth-century America, the Watergate affair rocked an already divided nation to its very core, severely challenged our cherished notions about democracy, and further eroded public trust in its political leaders.

The 1972 break-in at Democratic National Headquarters in the Watergate Hotel—by five men acting under the direction of a Republican president's closest aides and his staff—created a constitutional crisis second only to the Civil War and ultimately toppled the Nixon presidency. With its sordid trail of illegal wiretapping, illicit fundraising, orchestrated cover-up, and destruction of evidence, it was the scandal that made every subsequent national political scandal a "gate" as well.

A disturbing tale made famous by Washington Post reporters Bob Woodward and Carl Bernstein in All the President's Men, the Watergate scandal has been extensively dissected and vigorously debated. Keith Olson, however, offers for the first time a "layman's guide to Watergate," a concise and readable one-volume history that highlights the key actors, events, and implications in this dark drama. John Dean, John Ehrlichman, H. R. Haldeman, G. Gordon Liddy, John Mitchell, Judge John Sirica, Senator Sam Ervin, Archibald Cox, and the ghostly "Deep Throat" reappear here—in a volume designed especially for a new generation of readers who know of Watergate only by name and for teachers looking for a straightforward summary for the classroom.

Olson first recaps the events and attitudes that precipitated the break-in itself. He then analyzes the unmasking of the cover-up from both the president's and the public's perspective, showing how the skepticism of politicians and media alike gradually intensified into a full-blown challenge to Nixon's increasingly suspicious actions and explanations.

Olson fully documents for the first time the key role played by Republicans in this unmasking, putting to rest charges that the "liberal establishment" drove Nixon from the White House. He also chronicles the snowballing public outcry (even among Nixon's supporters) for the president's removal. In a remarkable display of nonpartisan unity, leading public and private voices in Congress and the media demanded the president's resignation or impeachment. In a final chapter, Olson explores the Cold War contexts that encouraged an American president to convince himself that the pursuit of "national security" trumped even the Constitution.

As America approaches the thirtieth anniversary of the infamous Watergate hearings and the overreach of presidential power is again at issue, Olson's book offers a quick course on the scandal itself, a sobering reminder of the dangers of presidential arrogance, and a tribute to the ultimate triumph of government by the people.
Permalink
Last updated 11/09/2017 by P. Higo
What's related