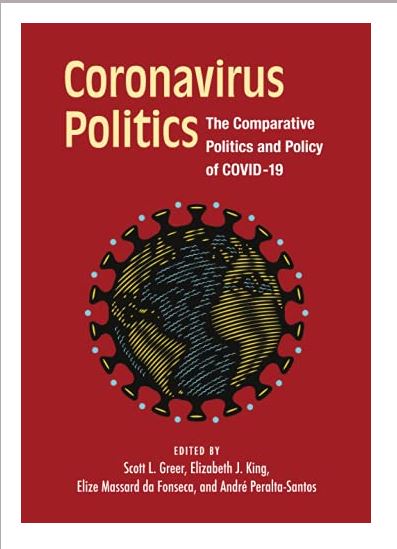 by Scott L Greer (Author), Elizabeth King (Author), Elize Massard da Fonseca (Author), Andre Peralta-Santos (Author)
COVID-19 is the most significant global crisis of any of our lifetimes. The numbers have been stupefying, whether of infection and mortality, the scale of public health measures, or the economic consequences of shutdown. Coronavirus Politics identifies key threads in the global comparative discussion that continue to shed light on COVID-19 and shape debates about what it means for scholarship in health and comparative politics. Editors Scott L. Greer, Elizabeth J. King, Elize Massard da Fonseca, and André Peralta-Santos bring together over 30 authors versed in politics and the health issues in order to understand the health policy decisions, the public health interventions, the social policy decisions, their interactions, and the reasons. The book's coverage is global, with a wide range of key and exemplary countries, and contains a mixture of comparative, thematic, and templated country studies. All go beyond reporting and monitoring to develop explanations that draw on the authors' expertise while engaging in structured conversations across the book.
More on Coronavirus Politics The Comparative Politics and Policy of COVID-19 (EBOOK)
Last updated 07/12/2021 by P. Higo
Juneteenth (EBOOK)
LynnPeppas Every year on June 19th, people of all backgrounds celebrate the day that African Americans were freed from slavery in the United...
More on Juneteenth (EBOOK)
Updated 6/21/21 by P. Higo
The Science of Citizen Science (EBOOK)
Katrin Vohland editor.; Anne Land-zandstra editor.; Luigi Ceccaroni editor.; Rob Lemmens editor.; Josep Perelló editor.; Marisa Ponti editor.;...
More on The Science of Citizen Science (EBOOK)
Updated 4/20/21 by P. Higo
I was sad to hear of Benny Napoleon's passing of the coronovirus. As I was reading all the news articles and hearing on the radio other people's memories about his time with the police department and their own personal relationships with him, I thought about my own encounters with him. While he was a student at Mercy College of Detroit (now University of Detroit Mercy), he would come into the library to get articles for his papers. At the time we had closed off the periodical section, so everyone had to fill out a request slip for any item they needed to see. Even with the brief times I had with him to help get the journals, he was such a happy, easy going person that you immediately liked him. I must of helped hundreds of students get journals, but I remember almost none of them, but Benny is one of the few students that I can remember by name and face! He was just such a nice person and one of my most unforgettable person I had ever met, even though it was for just a few minutes at a time.
RIP Benny Napoleon
Pat Higo, Archives, Special Collections Librarian
Last updated 12/20/2020 by P. Higo
William Still, Black Abolitionist
"There is a flow to history and culture. This flow is rooted and has its wellspring in the thoughts of people. People are unique in the inner...
More on William Still, Black Abolitionist
Updated 2/5/20 by P. Higo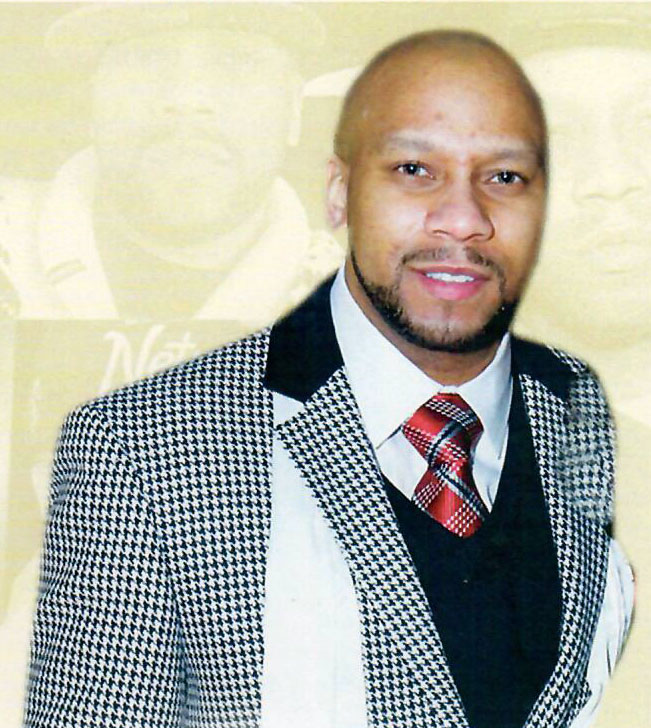 Normally, the Research Blog describes library resources that might be useful to students and faculty. However, today we are departing from that mission to recognize Former Head of Circulation at the McNichols Campus Library Betty Nelson's son Derick who was killed six years ago, May 9, 2015. Today's blog is a reprise of a blog posted that summer.
It happens everyday. Everyday you watch the news and there is another story about a senseless shooting in some part of Detroit. If you pay any attention at all, it's only to shrug and think to yourself what's wrong with this city? Another anonymous casualty. But on May 9, 2015 a member of the library family, the Detroit Mercy family, became the victim. Betty Nelson's only child, Derick, was gunned down in the parking lot of his gated community apartment.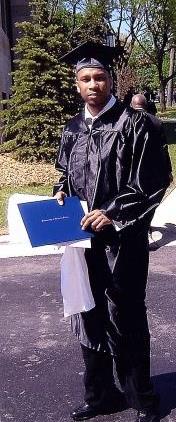 Derick earned his Bachelors in Computer and Information Systems and Masters in Information Assurance from Detroit Mercy. He worked in the library during the years he was attending school here and was well known and well liked by many among the Detroit Mercy community. Derick was a brilliant, creative and giving individual. He was the kind of person who would do anything for you. That may sound...
More on In Memory of Derick Nelson
Last updated 05/07/2021 by J. Eisenstein
The Library Has What You Need For Finals
We know you're getting geared up for the toughest time of the term- FINALS! Don't panic. We have you covered. The McNichols Campus...
More on The Library Has What You Need For Finals
Updated 8/4/20 by J. Eisenstein
Don't Forget to Vote
Do you want a voice in how the government handles important issues that affect you, your friends, and your family? Don't forget to...
More on Don't Forget to Vote
Updated 10/26/20 by R. Davidson
From the Research Desk...


From May 2021 to July 2022, the Society of Jesus is celebrating an Ignatian Year. May 20, 2021 marked the 500th anniversary of St. Ignatius' conversion, the day when Ignatius the soldier was struck by a cannonball, and began his spiritual transformation. Throughout the year, there will be an ongoing, changing display on Ignatian topics. The current display consists of biographies and autobiographies of St. Ignatius. Future themes will include resources on the Society of Jesus, the spiritual exercises, and there will be a display centering on the Jesuits, past and current, affiliated with the university. Check out the display case on your way out of the library.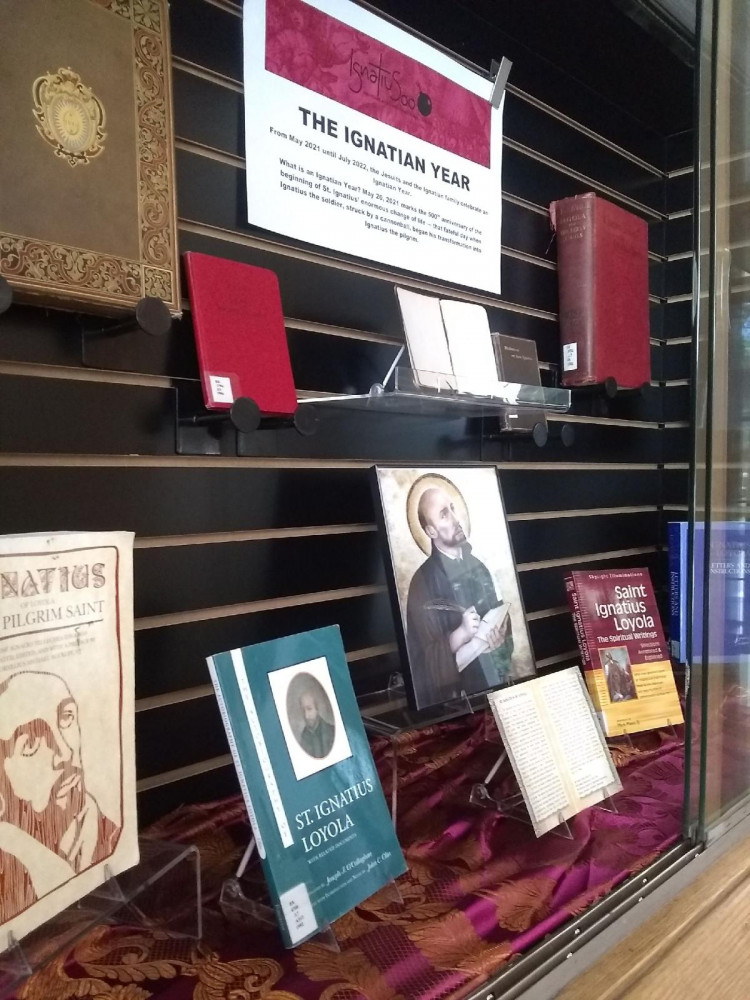 Last updated 06/28/2021 by J. Eisenstein
Brothers and Sisters to Us
This afternoon President Garibaldi sent, by way of email, a statement on the Derek Chauvin verdicts to all Detroit Mercy employees. In it, President...
More on Brothers and Sisters to Us
Updated 4/21/21 by J. Eisenstein
Library Closure
We in the libraries are privileged to be your trusted partners in teaching and learning. Although Governor Whitmer's Executive Orders 2020-20 and...
More on Library Closure
Updated 3/24/20 by J. Eisenstein
Library Services Winter 2021
A Guide to Library Assistance for the Winter Term Librarians are available to assist you. Email: edesk@udmercy...
More on Library Services Winter 2021
Updated 3/18/21 by J. Eisenstein