(Bb Ultra) Accessing Collaborate
To access Blackboard Collaborate, look in the "Details and Actions" section of your course over to the left to find the "Join Session" button.


If you click on the ellipsis "..." icon, you will get a series of additional options you may already be familiar with from Blackboard Classic.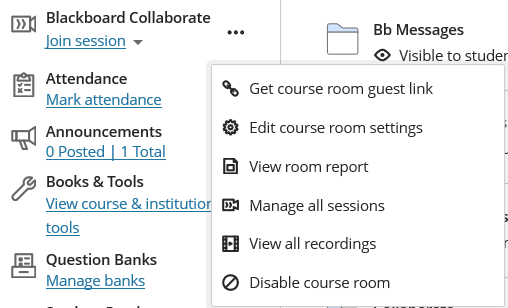 If you are planning to use the general course room, then you do not need to create sessions and can skip this next part. If you are going to be creating sessions, then it's recommended you lock the general course room for Collaborate. Otherwise your students may not know what room to go into.
Example; When your students click on the "join session" button, and you have the general course room as well as sessions available, it will look like this:
Locking the general course room would be best. To do so, click on the ellipsis, and select "edit course room settings". Once the page loads, find the circle with the ellipsis menu


then select "Lock course room".


That way only the session(s) will be displayed. Again, if you do not need to use sessions, just use the default course room.

Permalink
Last updated 06/03/2020 by A. Cressey
What's related