St. Patrick's Day Tug-of-War, Irish vs. German with University of Detroit St. Francis Club
HOW IT ALL BEGAN (From the St. Francis Club Archives)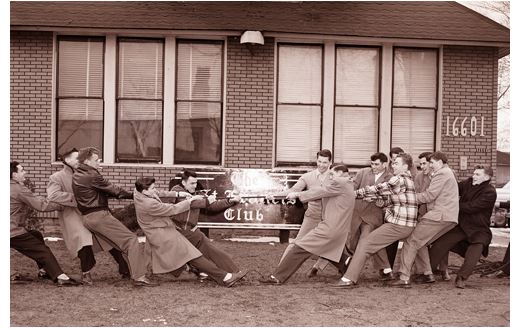 Legend has it that the whole thing began with a tussle between one Adolph Schultz and one Patrick Mahoney in 1949. During the noon-day repast at the St. Francis Club they both reached for a napkin at the same time. It was St. Patrick's Day and the feeling had been running pretty high anyway about the German invasion of the U. of D. eating club. Once a predominantly Irish organization, the sons of Erin noted a creeping Deutsche influence and a recurrence of sauerkraut too frequently on the menu.
The napkin tussle between Schultz and Mahoney developed into a regular Donnybrook, and was quickly moved out of doors as friends of the two napkin grabbers joined along nationalistic lines. It further developed into a tug-of-war when a stout rope was substituted for the napkin.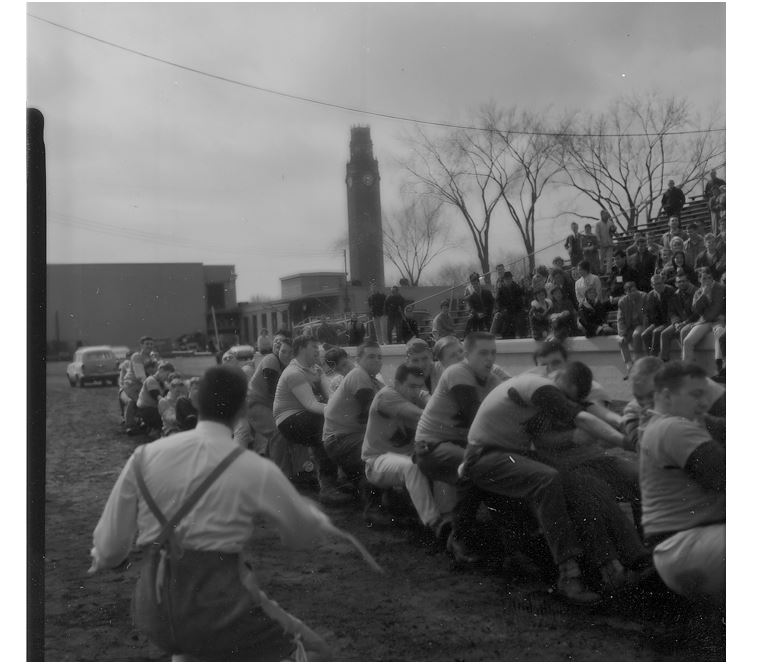 Thus each year, sounds of 'McNamara's Band' and 'Ach du Liber Augustine' have echoed through the hall of U. of D. on St. Patrick's Day. The two factions don their green and orange T-shirts and begin to pull each other through the mud.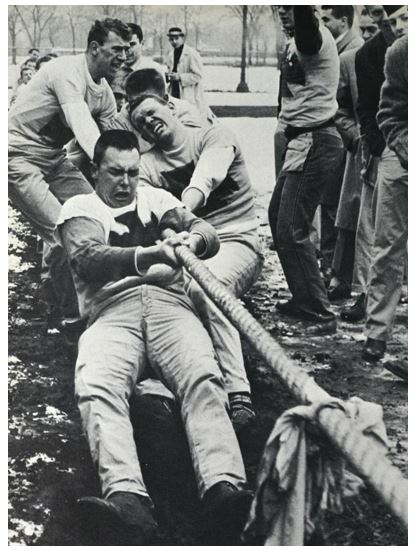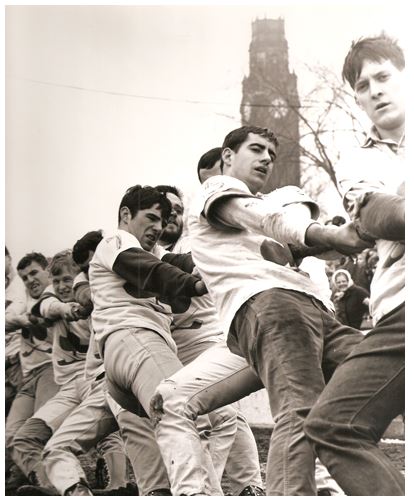 According to the files I have, the Irish won in 1949 and the following years were pretty evenly split between the Irish and German teams. The archive files go through 1961 with the Germans taking the lead, seven wins to the Irish six wins. The tradition carried on for several more years, but that is as far as the files in the archives go. A little more research through the Varsity News indicates the St. Francis Club tug-of-war appears to have ended about 1983. The next mention I can find of a tug-of-war between Irish and Germans is in 1986 between the Irish Engineers and German Architects and was sponsored by a commercial company which supplied food and T-shirts for the teams. Nowadays when a tug-of-war event is posted, it is with some of the fraternities or student organizations on campus.
ERIN GO DEUTSCHE
Permalink
Last updated 03/08/2023 by P. Higo
What's related