The 1960′s "Take-Over Generation"
The 1963 Tower Yearbook introduces the reader to 12 months of changes summed up in one span of time between March 15, 1962 to March 15, 1963. The yearbook narrows down the events of that unsettled time in the world to the microcosm of the University of Detroit campus. So, how does this compare with the broader turmoil in the rest of the world?
When someone mentions the 1960s the first thing that often comes to mind for a lot of people these days is a vision of colorfully dressed hippies dancing in a park playing tambourines and singing songs of peace. Some people think of the Vietnam War and the protests that went along with it; some think of the assassination of John F. Kennedy and the dark hours of that dramatic event. The troubled and troubling decade of the 1960s, and the string of events that ended once and for all the innocent years following World War II, seems to have been started by one major occurrence that a lot of people tend to overlook when they consider this time.
On August 18, 1963, James Meredith graduated from the University of Mississippi with a degree in political science. On October 1, 1962, he had become the first black student to enter "Ole Miss" and his time there was arguably the spark that set fire to the Civil Rights Movement in this country. Ten days after Meredith graduated, 250,000 people participated in the March on Washington, and were present to hear Martin Luther King, Jr. deliver his historic I have a Dream speech.
The 1963 Tower Yearbook, published at the on-set of the turbulent years to follow, offers readers a rare glimpse into the final days of social innocence that marked the beginning of changes that continue to this day.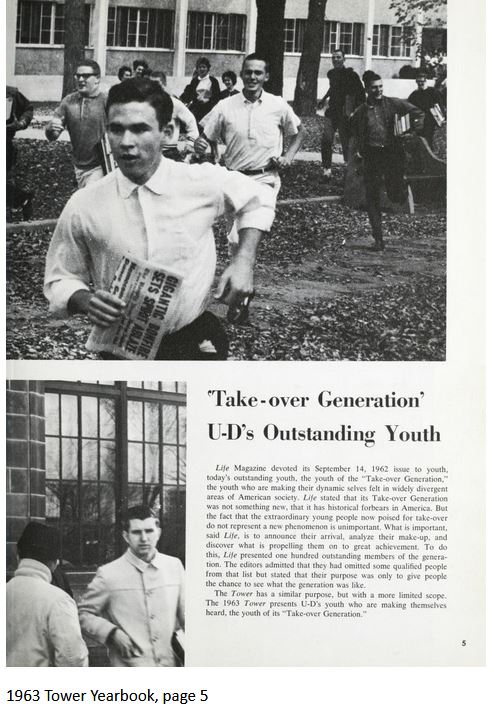 Contribution from Linda Papa, Digital Technician
Permalink
Last updated 10/04/2018 by P. Higo
What's related