McNichols Campus Library Update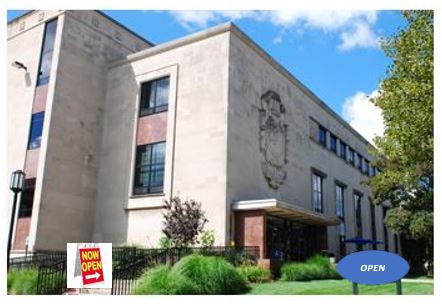 Faculty Colleagues,
Our libraries have adjusted and adapted to ensure continuous access to collections and services to support the needs of learning, teaching, and research in the Winter and Summer semesters. After several months under a necessary Executive Order specifically curtailing all physical library service to the public, library employees have been providing online services, working to reset the library spaces, and meeting to consider and plan the safest way to provide physical library services. We are writing to update you on library service plans for Fall 2020.
The majority of this letter will concern services at the McNichols Campus Library. However, our library colleagues at the Corktown and Riverfront Campus libraries are available to discuss library services for Law and Dental faculty. For more information, please contact:
Marilyn Dow, Corktown Campus, Dental Library Director: dowmk@udmercy.edu
Patrick Meyer, Riverfront Campus, Kresge Law Library Director: meyerpj@udmercy.edu
McNichols Campus Library Building Access
The McNichols Campus Library will be closed to the public through Monday, August 17, 2020. On Monday, August 17, 2020, all Libraries/IDS employees will attend Convocation and engage in employee development in preparation for the new academic year.
The McNichols Campus Library will open to registered students and employees only beginning on Tuesday, August 18, 2020. Space for study will be available on the first and second floors.
Tuesday and Wednesday, August 18 and 19, 2020 – open to faculty by appointment between 9 am and 5 pm – please contact Associate Dean George Libbey at libbeygh@udmercy.edu, 313-993-1078 or Dean Jennifer Dean at deanjl@udmercy.edu, 313-993-1090.
Thursday and Friday, August 20 and 21, 2020 – open 9:00 am – 5:00 pm
Per Executive Order (EO) #2020-161, libraries must limit staffing to the minimum number of employees necessary to operate. This necessitates a reduction in library hours at this time.
Regular Fall hours, beginning August 24, 2020:
Monday-Thursday, 8:00 am – 8:00 pm
Friday, 8:00 am – 5:00 pm
Virtual reference and research assistance is available 24/7 via the libraries' website: https://libraries.udmercy.edu/
Instruction
Librarians are available to assist faculty with online resources, search strategies, and customized library instruction for your courses. We recommend that you encourage your students to use the library's 24/7 research assistance and one-on-one librarian consultation services, as well. Librarians are also available to talk with faculty about using library resources to make their courses more affordable. Options include library-owned ebooks, ejournals, and streaming video, as well as Open Educational Resources (OER). Please contact the librarian for your discipline for more information: https://libraries.udmercy.edu/guides/.
Online Resources
The library continues to maintain a wealth of online resources to support all disciplines. For the Fall semester, librarians have added several resources to support online laboratory and anatomy work, including JoVE Science Education: https://udmercy.libguides.com/Jove and Acland's Video Atlas of Human Anatomy: https://udmercy.libguides.com/aclands. The University has provided funds for librarians to purchase ebooks and streaming video to support your courses. For streaming video, the library subscribes to Academic Video Online: https://udmercy.libguides.com/AVON, a collection of thousands of streaming video titles available on a platform that includes closed captioning, transcripts, and options to create clips and playlists. For a full list of our online resources, please see our website: https://udmercy.libguides.com/az.php.
Access to Print and DVD Resources
During the Fall semester, library employees will retrieve materials from the stacks for students, faculty, staff, and administrators for pickup at the front desk. You may request your materials in person, by phone (313-993-1795), or by email (circulation@udmercy.edu).
Interlibrary Loan (ILL)
We will resume ILL of print materials and continue ILL for electronic materials. Please continue to request ILL materials at our website: https://libraries.udmercy.edu/ill/.
Course Reserves
To protect our students' health and safety we will be unable to offer physical course reserves. Per the REALM study: https://www.webjunction.org/explore-topics/COVID-19-research-project.html, SARS CoV 2 may be detected three to four days after a physical item has been circulated, particularly inside books, making the quick turnaround time needed for physical reserves unsafe. Please contact Head of Circulation Megan Novell (novellme@udmercy.edu) to discuss options for your course. In many cases, we may already have access to an electronic version of the material you plan to use and we can refer you to a librarian to assist you in accessing a permalink to use in your Blackboard course. In some cases, we may refer you to a librarian to request an ebook purchase. In other cases, library staff may be able to digitize a portion of a physical book in keeping with fair use guidelines (https://www.copyright.gov/fair-use/more-info.html) and create a file you may post in your Blackboard course.
Thank you for all you do. We are your partners in learning, teaching, and research. Please don't hesitate to reach out to me (deanjl@udmercy.edu) or any member of our McNichols Campus Library team should you have questions or concerns—we will work together to find a solution. We appreciate your flexibility. Should the environment necessitate changes to our building access or services, we will notify you.
Sincerely,
Jennifer
Jennifer L. Dean - PhD, MLIS
Permalink
Last updated 08/14/2020 by J. Eisenstein
What's related