Remembering Fr. Howard Gray, 1930-2018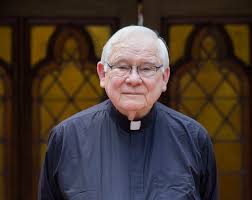 In a day and age when the Catholic church is under fire for its handling of sexual abuse cases, and people are leaving the Church because of what a small number of priests have done, what goes unreported are the thousands of Catholic priests who are doing amazing things on a daily basis. Priests celebrate mass, hear confessions, preach the Word, tend to the sick, give last rites, and preside over baptisms, weddings, and funerals. Priests visit with prisoners in jail, patients in hospitals, and the elderly and infirmed in nursing homes. They provide counsel to those who are undergoing difficult times. They provide spiritual guidance and teach us to pray. They enter into our darkest times to help us find the light of Christ.
(Photo courtesy of The Hoya)
On May 23, 1930 one of those amazing priests was born. Fr. Howard Gray was ordained into the Society of Jesus in 1961 and took his final vows in 1965. Fr. Gray's resume is long and impressive and he had a long history in the Detroit area.
Fr. Gray was the Director of Formation for the Detroit Province (1968-1972). In 1971, he became the first superior of Loyola House, the joint Chicago-Detroit novitiate in Berkley, Michigan. In 1983, he became the provincial of the Detroit Province. From 1985-1989, in addition to being provincial, he was the elected Vice President of the Major Superiors (CMSM). Later, Fr. Gray became the Detroit Province Tertian Director and the Director of the Detroit Province Spirituality Team (1990-1996).
At the age of 66, Howard left internal governance and formation work in the Society and became the first Director of the Center for Ignatian Spirituality at Boston College (1996-2001). He returned to the Detroit Province to become the rector of the Jesuit Community and the Assistant to the President for University Mission and Identity at John Carroll University (2001-2007). While at John Carroll, he was the Tertian Director for six Jesuits during a special 13-month Detroit Province Tertianship program (2005-2006). Fr. Gray moved to Georgetown University to become the Assistant to the President for special projects (2007-2017) and, in his final year there, interim Vice President for Mission and Ministry. In 2009-2010, Fr. Gray was Tertian Director (for the third time) for the Jesuit Conference. In late July 2017, he joined the staff of Manresa Jesuit Retreat House in Bloomfield Hills, Michigan. On May 7, 2018 Fr. Gray died of injuries suffered in an automobile accident in Troy. (https://jesuitsmidwest.org/news-detail?TN=NEWS-20180507042143)
Fr. Gray led people to Christ. He was known for his scholarship and teaching on Ignatian spirituality and the Spiritual Exercises. He was pivotal in promoting Ignatian spirituality and promoting the individual directed retreat. He established programs to teach others to be compassionate guides and he opened those programs to lay men and women. (http://image.jesuits.org/MIDWESTPROV/media/HOWARD%20Gray%20Funeral%20Homily%20by%20John%20OMalley.pdf).
I first heard Fr. Gray speak when he did the opening keynote at the Heartland Delta VI Conference at Xavier University in 2010. His talk was entitled "Composition of Place". His brief speech was at once intellectually challenging, uplifting, inspiring and prayerful. He verbally transformed what seems like day-to- day work into the most holy of endeavors. "The world we serve is God's world given us to serve."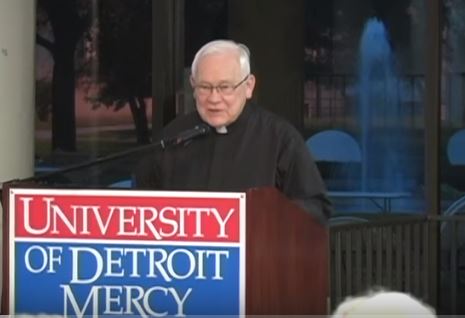 Fr. Gray visited Detroit Mercy for Celebrate Spirit in 2013. On September 11 of that year, the 12th anniversary of 9/11, Fr. Gray gave a talk on Interfaith Dialogue since 9/11/2001. He spoke about the importance of dialogue not just with people of other (or no) faiths, but between people generally, and that dialogue should not only be something the Church does, but "becomes." He talked about the importance of being humbly present to each other in truthfulness as part of interreligious dialogue. This talk is available for viewing on YouTube (https://youtu.be/TM1AhBETXKY )
The final time I heard Fr. Gray speak was in March 2018, two months almost to the day, prior to his death when he spoke at St. Hugo of the Hills Parish in Bloomfield Hills. His talk was entitled "The Our Father: Prayer of Consolation & Prayer of Challenge". He divided the Lord's Prayer into two parts. In the first part, he pointed out how the petitions are written in the 3rd party acknowledging God as a mystery and reverence to God. The second part is concerned with who we are as human beings in relationship to God. During a break in the middle of that talk, I was blessed to have had a private moment with him where we talked about the nature of forgiveness. That is a moment I will treasure forever.
May 23, 2019 would have marked his 89th birthday. While the world has lost an amazing priest, we are fortunate he left behind texts and videos that will continue his inspired work leading us to Christ.
Gray, Howard S.J. (2017) "Sanctuary for the Heart,"

Conversations on Jesuit Higher Education: Vol. 52, pp. 1-3.
https://epublications.marquette.edu/cgi/viewcontent.cgi?article=2087&context=conversations
Gray, S.J., Howard (2012) "Reports: The Retreat Master is - GOD! The Ignatian Spiritual Heritage Reanimated for Today's Higher Education Challenges,"

Conversations on Jesuit Higher Education: Vol. 42, pp. 42-43.
https://epublications.marquette.edu/cgi/viewcontent.cgi?article=1788&context=conversations
Gray SJ, Howard. "Ignatian Spirituality."

An Ignatian Spirituality Reader: Contemporary Writings on St. Ignatius of Loyola, the Spiritual Exercises, Discernment and More

, George W. Traub SJ (ed.) Loyola Press, 2008, pp. 59–84.
Available in the McNichols Campus Library, BX 2179 .L8 I49 2008
Gray, S.J., Howard

, "The Challenge of Religious Leadership: Maintenance or Mission? In Living in the Meantime: Concerning the Transformation of Religious Life, P.J. Philibert (ed.), 99 39-52, Paulist Press, NY, 1994.
Available in the McNichols Campus Library, BX 2435 .L58 1994
Gray, SJ, Howard J."On Prayer and Praying". Studies in the Spirituality of Jesuits, 21(5), 1989, pp. 22-23.
Available in the McNichols Campus Library, BX 3701 .S78 v.21 no.5
Gray, SJ, Howard J. "An Experience in Ignatian Government: Letters to a New Rector". Studies in the Spirituality of Jesuits, 14(4), 1982, pp. ii-33.
Available in the McNichols Campus Library, BX 3701 .S78 v.14 no.4
Videos:
The Centrality of the Good Person in Jesuit Education. Recorded at Georgetown University, April 2018.
https://missionandministry.georgetown.edu/centrality_sacred_lecture
A Life Wound by Mercy. Recorded at Georgetown University, November 2016.
https://missionandministry.georgetown.edu/SacredlectureALifeWoundByMercy
The Challenges and Graces of Friendship: An Ignatian Perspective, Recorded at Georgetown University, March 2015
https://missionandministry.georgetown.edu/challenges-of-friendship
Permalink
Last updated 08/04/2020 by J. Eisenstein
What's related