by Teresa M. Bejan
Today, politicians and intellectuals warn that we face a crisis of civility and a veritable war of words polluting our public sphere. In liberal democracies committed to tolerating diversity as well as active, often heated disagreement, the loss of this conversational virtue appears critical. But is civility really a virtue? Or is it, as critics claim, a covert demand for conformity that silences dissent?
Mere Civility sheds light on our predicament and the impasse between "civilitarians" and their opponents by examining early modern debates about religious toleration. As concerns about uncivil disagreement achieved new prominence after the Reformation, seventeenth-century figures as different as Roger Williams, Thomas Hobbes, and John Locke could agree that some restraint on the war of words would be necessary. But they recognized that the prosecution of incivility was often difficult to distinguish from persecution. In their efforts to reconcile diversity with disagreement, they developed competing conceptions of civility as the social bond of tolerant societies that still resonate.
Most modern appeals to civility follow either Hobbes or Locke by proposing to suppress disagreement or exclude persons and positions deemed "uncivil" for the sake of social concord....
More on Mere Civility: Disagreement and the Limits of Toleration
Last updated 06/14/2018 by P. Higo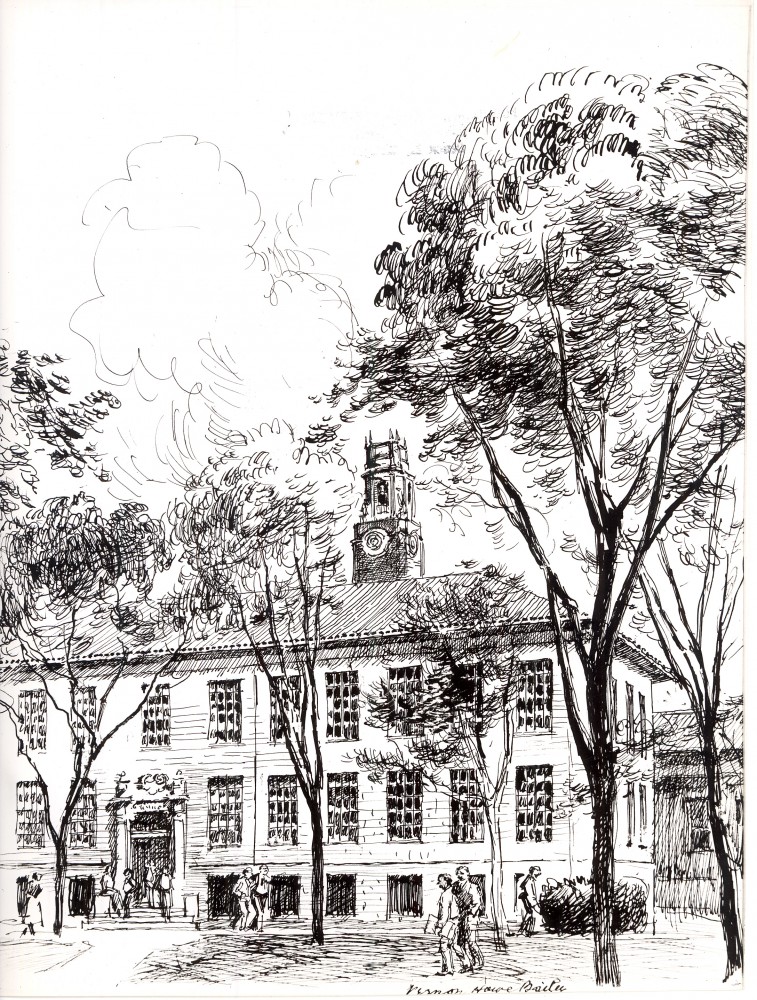 With the recent announcement of Ford Motor Company acquiring the historic Michigan Central Train station, in browsing the files in archives, I happen to come across a menu featuring the University of Detroit for a train route between Detroit and New York in 1949.
The artist sketch by Norman Howe Bailey is on the front of the menu. Check out the 1949 prices on the dining car menu.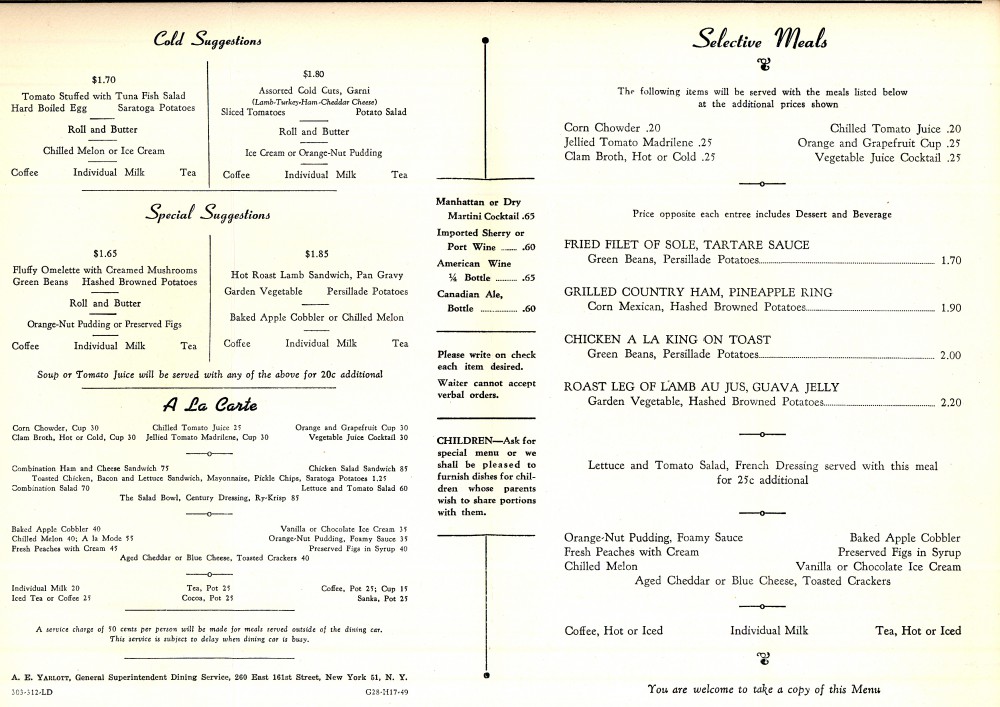 The back of the menu gave a brief description of the university along with a brief history of the Michigan Central Train Route. The University was founded one year before there was a train route with the New York Central System!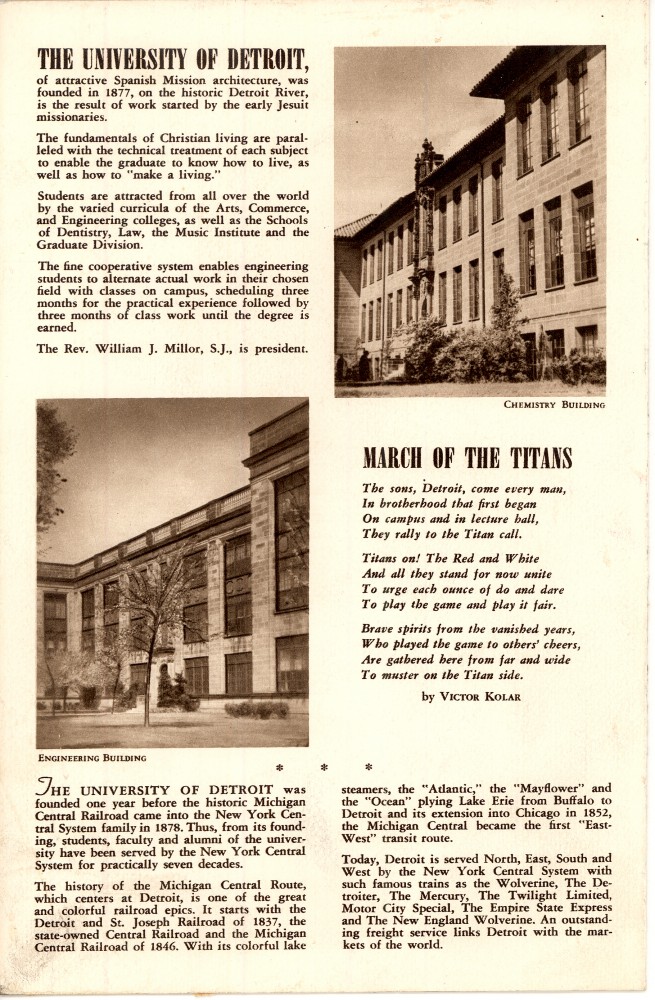 There won't be any trains running out of Ford's new building, but it should put the city of Detroit on the right track for a brighter future!
Last updated 06/20/2018 by P. Higo
"A Boy of 1812″
Things were never really what you might call cordial between the New World and Britain during the early 1800s. There was the whole mess between...
More on "A Boy of 1812″
Updated 6/12/18 by P. Higo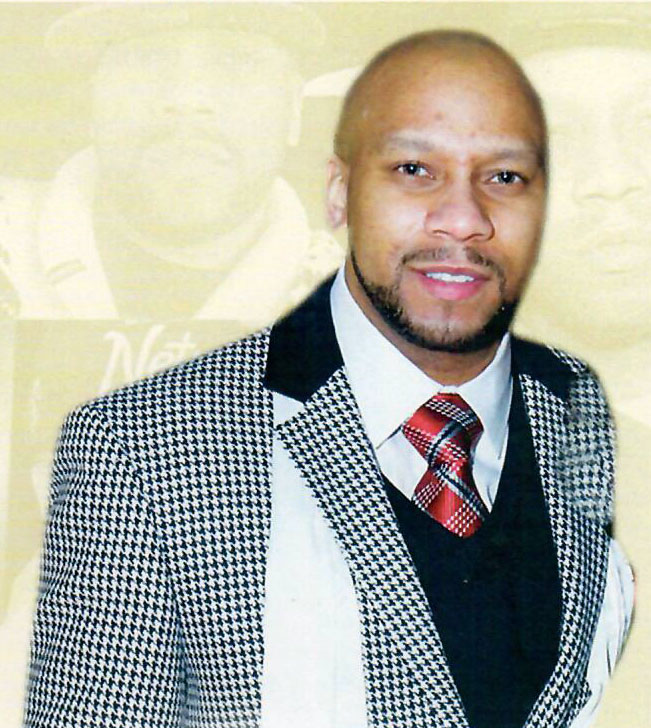 Normally, the Research Blog describes library resources that might be useful to students and faculty. However, today we are departing from that mission to recognize Betty Nelson's son Derick who was killed three years ago today. Today's blog is a reprise of a blog posted that summer.
It happens everyday. Everyday you watch the news and there is another story about a senseless shooting in some part of Detroit. If you pay any attention at all, it's only to shrug and think to yourself what's wrong with this city? Another anonymous casualty. But on May 9, 2015 a member of the library family, the UDM family, became the victim. Betty Nelson's (Head of Circulation at the McNichols Campus Library) only child, Derick, was gunned down in the parking lot of his gated community apartment.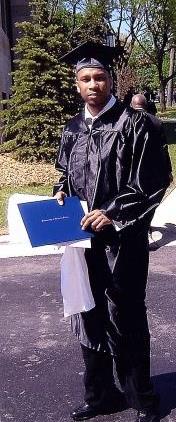 Derick earned his Bachelors in Computer and Information Systems and Masters in Information Assurance from UDM. He worked in the library during the years he was attending school here and was well known and well liked by many among the UDM community. Derick was a brilliant, creative and giving individual. He was the kind of person who would do anything for you. That may sound cliche, but in his case it was the...
More on In Memory of Derick Nelson
Last updated 05/09/2018 by J. Eisenstein
In Memory of Derick Nelson
Normally, the Research Blog describes library resources that might be useful to students and faculty. However, today we are departing from that...
More on In Memory of Derick Nelson
Updated 5/9/18 by J. Eisenstein
The Library Has What You Need For Finals
We know you're getting geared up for the toughest time of the term- FINALS! Don't panic. We have you covered. The McNichols Campus...
More on The Library Has What You Need For Finals
Updated 4/15/18 by J. Eisenstein
HaPI is the Way I'm Feeling
Anyone old enough will recognize the title as a line from a Carpenters song on their Horizon album called Happy. But today I'm happy because...
More on HaPI is the Way I'm Feeling
Updated 5/9/18 by J. Eisenstein