The Library, Teaching, and Learning Center Thanksgiving List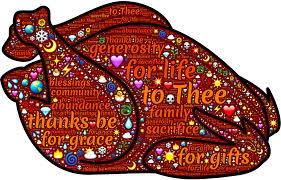 This week some of the Library, Teaching, and Learning staff took some time out to pause and consider what we are thankful for:
Jennifer Dean, Dean of University Libraries and Instructional Technology: We have much to be thankful for here. I am thankful for the camaraderie we share in the Libraries/IDS and the Library Teaching & Learning Center. It makes coming to work fun, and it makes me want to do my best everyday. I attended the Michigan Library Association conference back in October. Our first keynote presenter shared that camaraderie was the #1 thing that made people want to come to work and go the extra mile - it even outranked pay. That resonated with me...but as a librarian, I had to look it up! From a 2013 Harvard Business Review article: "Research shows that workers are happier in their jobs when they have friendships with co-workers." The author, currently the President at Adelphi University and formerly Provost and Prof of Management at the Univ of KY, goes on to say: "Camaraderie is more than just having fun, though. It is also about creating a common sense of purpose and the...
More on The Library, Teaching, and Learning Center Thanksgiving List
Permalink
Last updated 11/19/2018 by J. Eisenstein