Download (and print?) a graded assignment
At some point you may want to keep a copy of the feedback your professor gave you on a written assignment submitted through Blackboard, either for your own records or for a portfolio-type project. Courses on Blackboard won't necessarily be available forever — your professor may decide to disable them at any time, so we recommend capturing any feedback you wish to save as soon as you receive that feedback.
Fortunately, the process is pretty easy.
First, locate the assignment in question in your My Grades page. You can do this inside the course by going to TOOLS then choosing MY GRADES.
Click on the assignment name

This will launch a "Review Submission History" page, which shows a copy of the marked-up paper in a view. At the top-left of the markup page you'll find a zoom-out button, a zoom-in button, and a download button. Click the download button.
Next, you'll be prompted whether you'd rather to download the original file you uploaded or an annotated PDF of the file. If you wish to keep the professor's feedback, choose Download annotated PDF.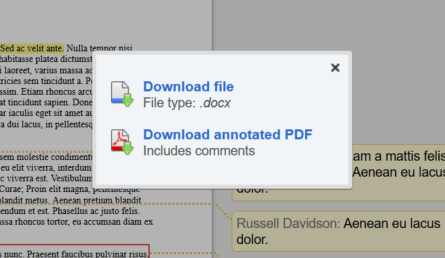 You'll then be asked what you wish to name your download and where you wish to save it. Choose an appropriate name and location. Once you have downloaded the file to your computer, you can print at your leisure.
Permalink
Last updated 02/21/2017 by R. Davidson
What's related