Office of Digital Education
(Bb Ultra) Sending Messages within Blackboard
In Blackboard Ultra, sending messages to the folks in your class is much simpler.
Messages in Blackboard are meant to be used much like email, except they are within Blackboard Ultra. They can be attached to documents, sent to their classmates and/or instructor to pair alongside the course and it's content. Bb Messages are intended to be used much like email, but the messages stay within Bb, so going to email is not necessary. Students can message each other to schedule study meetings, ask the instructor questions about content or clarify assignments etc.
To start, first go into your class then in the upper right click on the little "envelope" icon


then the "plus" icon that will appear just below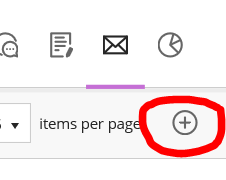 Type in the name of the recipient in your course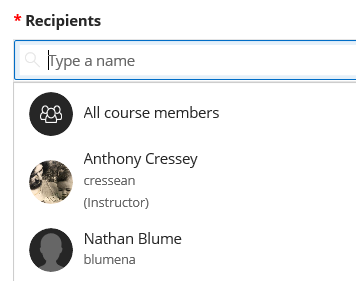 Then type your message


There's several formatting options like the text style, formatting the text, bullet lists, or you can insert links, files, images, videos etc.
When you are done, click the "send" button.
To access your messages, click on the envelope icon in the upper right.


From there, you should see any message you have in your Blackboard inbox


To reply, click on the persons name, and a dialog box will show on the right side of the page. From there, type in your reply and hit send.
With Ultra, you can even allow conversations to happen within an assignment. Under assignment settings click the gear icon,


then put a check next to "allow class conversations".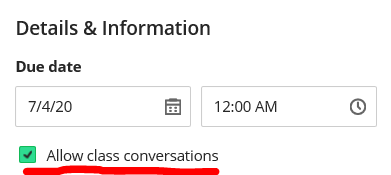 Note: If you post a message to "everyone" and someone adds to your course later, they won't get that message. A message to "everyone" is a message to everyone enrolled in the course at that time. So if you want to post something that everyone will see regardless of when they enroll in your course, you want it to be an announcement or a "Document".
Permalink
Last updated 07/24/2020 by R. Davidson
What's related