(Bb Ultra) Adding Gradebook Categories
Categories are used to group items together in the Gradebook and Overall Grade column. Assignment, Test, Discussion, Journal, Attendance, Exam, Homework, Presentation, and Quiz are the default Categories included in all Blackboard Ultra courses, but you can also create additional categories.
To start, open the Gradebook using the icon in the upper right of your Ultra course page.

Next, click on the Gradebook Settings icon, located at the top left of the page.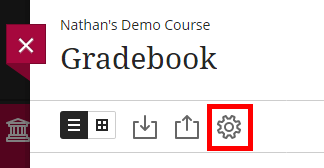 Scroll down the sidebar until you see the Grade Categories section, and then click the ADD NEW CATEGORY button.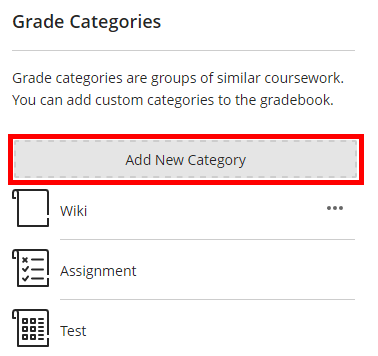 Enter the name of your new Category and press the ENTER key to submit.

Your new category is now ready to use and can be applied in the Settings section of an Assessment or Item.
Permalink
Last updated 12/08/2020 by N. Blume
What's related