RESEARCH HOME
/
FIND
/
SPECIAL COLLECTIONS
/
SISTERS OF MERCY COLLECTION
Sisters of Mercy
A history of the Sisters of Mercy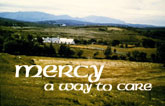 A Way to Care (QuickTime video)
Sisters of Mercy Collection
History of the Sisters of Mercy
Introduction written by Gilmary Bauer, RSM
President, Sisters of Mercy of the Americas, Regional Community of Detroit
Catherine McAuley, founder of the Sisters of Mercy began a commitment to a more masterful and apt cartography, when in 1827 hearing cries of hunger, and even before the effects of the Great Famine were felt, she opened a house in a fashionable section of Dublin to care for women and children systematically impoverished. Her commitment to outgoing merciful service for those who were sick, homeless, dying, imprisoned, and unschooled added a new depth and tenderness to church ministry; and the example of Catherine's life – her human way of loving God and of following the example of Jesus in merciful love of her neighbor – has been offered to the ecclesial community for its guidance, support and solace.1
Catherine's vision, still relevant and flexible today continues to inspire the Sisters of Mercy who have devoted their lives to service for over 175 years. From their roots in Ireland they have spread to England, to the continents of North and South America, Africa, Australia, and New Zealand, and to lands in the Pacific and the Caribbean, serving wherever they are needed.
The first Sisters of Mercy arrived in the United States from Ireland in 1843 at the invitation of the Bishop of Pittsburgh, Pennsylvania. Their energy in ministering to those who were sick and economically poor attracted many new members. By 1854, sisters had come from Ireland to settle in New York and San Francisco, California, and continued to spread throughout the country, establishing schools and hospitals.
The University of Detroit Mercy's connection with the Sisters of Mercy originated with the Regional Community of Detroit which traced its roots to Mercy communities in Buenos Aires, Argentina (1856), Independence, IA (1869), Grand Rapids, MI (1873), Dubuque, IA (1879) and Jackson, MI (1915). In 1929, thirty-nine of the sixty independent motherhouses in the United States formed the Sisters of Mercy of the Union. This amalgamation united more than 5,000 sisters into six provinces. The Detroit Province (later Regional Community) was formed in 1940 when a small group of sisters was sent from Cincinnati to form a new province. Within five short years they had opened their provincial headquarters, Our Lady of Mercy High School, and Mercy College of Detroit which consolidated with University of Detroit in 1990.
The Sisters of Mercy taught generations of students in parochial schools and founded an array of hospitals and health services in Michigan, Iowa, Indiana and Argentina. In innovative and traditional ways they responded to the unmet needs of their times, particularly where similar services did not exist.
The Second Vatican Council (1962-65) called upon all members of religious congregations to read "the signs of the times" and to reconnect with the charism of their early founders. As a result, many Sisters of Mercy began working in ministries beyond healthcare and education, including housing and social services. Among them are doctors, lawyers and paralegals, theologians, advocates for immigrants, missioners, prisoners of conscience, and justice and peace activists.
The Sisters of Mercy today continue to exercise an influence that far exceeds their numbers. To facilitate this, they have turned over some of their daily operations to lay colleagues or formed partnerships with other religious congregations.
The Mercy Community is diverse. Sisters, associates, volunteers in ministry work together in faith-centered collaborations to further the values and spirit of the Gospel and to live the charism of Mercy. The Sisters' congregational structure has evolved many times over the last 175 years. In 1991 the Sisters of Mercy of the Union and the other independent congregations of Mercy in the United States joined to form the Institute of the Sisters of Mercy of the Americas serving in eleven countries and the Protectorate of Guam.
In their "Direction Statement" they affirmed:
Animated by the Gospel and Catherine McAuley's passion for the poor, we, the Sisters of Mercy of the Americas, are impelled to commit our lives and resources to act in solidarity with
the economically poor of the world, especially women and children;
women seeking fullness of life and equality in church and society;
one another as we embrace our multicultural and international reality.
This commitment will impel us to
develop and act from a multicultural and international perspective;
speak with a corporate voice;
work for systemic change;
practice non-violence;
act in harmony and interdependence with all creation; and
call ourselves tocontinual conversion in our lifestyle and ministries.2
Never content to mark time in one place, and desirous to better focus the lives and mission of Mercy, the Congregation completed in 2009, a process of reconfiguring and reimagining which resulted in the consolidation of twenty-five regional communities into six larger geographic communities. The Regional Community of Detroit joined with the regional communities of Auburn and Burlingame, California; Cedar Rapids, Iowa; Chicago, Illinois; and Omaha, Nebraska to form one West Midwest Community July 1, 2008 with a little under 900 Sisters of Mercy and more than 500 Mercy associates, the Community is present in thirty-two states and four countries.
While Omaha, Nebraska was selected as the primary administrative site and where the West Midwest Community Leadership Team, elected in 2008, has its offices, sisters and associates in the six regional communities continue their lives and works in their respective geographic areas.
The Sisters of Mercy, their associates, and volunteers in Mercy have been extraordinarily favored to have been founded by a woman whose personality remains so attractive to a wide following, and whose character is so engaging and encouraging: a free, creative forthright, affectionate, intelligent, courageous, humorous, original and originating woman who dared to take a fresh look at her own milieu.3 Following Eavan Boland's observation and as Catherine's descendents they hope to see and follow an ingenious design which persuades a curve into a plane and gives out, finding as horizons, those persons most ignored or repressed.
---
1 Mary C. Sullivan, Catherine McAuley and the Tradition of Mercy (Notre Dame: Notre Dame Press, 1995) 3-4.
2 Life and Works (Sisters of Mercy of the Americas, 2003) 1.