RESEARCH HOME
/
ABOUT
/
LOCATIONS
/
Ask a Librarian
Oops! Normally, you'd see a chat window here, but it looks like either you've got Javascript disabled or our chat services is temporarily unavailable. Please reload this page to see if a librarian has returned or Email a UDM librarian.
McNichols Campus Library
Mailing Address: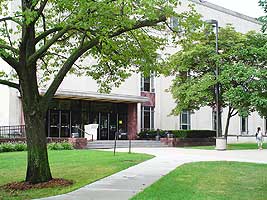 4001 W. McNichols Rd.
Detroit MI 48221
Phone Numbers:
Circulation Desk:
(313) 993-1795
Reference Desk:
(313) 993-1071
Location:
On the McNichols Campus, the Library/IDS is a separate building located between the Architecture and Chemistry buildings and directly across from the Briggs building at the northern end of the campus. On the south side of the Library is the Fisher Fountain.
Maps and Directions:
McNichols Campus Map [PDF]
Map to Campus & Driving Directions (supplied by Google Maps).