Elizabeth Royal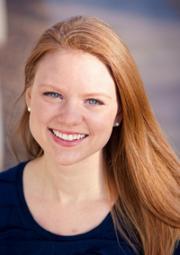 Instructional Designer, Instructional Design Studio
McNichols Campus Library
royalel@udmercy.edu
313-578-0578

Elizabeth Royal is a new member of the Instructional Design Studio and is here to facilitate the design and development of online course materials. In addition to that, she will assist faculty in creating, organizing, and building course materials and activities and play a role in supporting online course software.
Elizabeth received her B.A. in English Literature from the University of Wisconsin - Milwaukee and her M.A. from the University of Northern Colorado in Curriculum and Instruction. She has been involved in education and instruction in various capacities for nearly ten years.
In addition to her work at University of Detroit Mercy, Elizabeth loves to mountain bike, take photos, go kayaking with her lake-loving dog, and spend time with her husband fixing up their 1920's bungalow.